Overview:
Toyota had unveiled their first hot hatch, the GR Yaris, back in 2020 but it never arrived in the North American market. This time, Toyota is doing the opposite and plans to sell their new GR Corolla starting with the North American market.
Both hatches were designed and built by the renowned Gazoo Racing in their Motomachi plant, which also produced the LFA and the Mk4 (A80) Supra!
Toyota will launch it in the Core trim this year followed by the more expensive Circuit Edition in 2023.
So How Does it Look?
With its bulging fenders, gloss black grille, vents in the front fender and rear bumper, this Corolla looks mean. To cut weight and lower the center of gravity, all GR Corollas will have aluminum doors, as well as a larger track width to improve handling.
The circuit edition will come with a Forged Exposed Carbon Fiber roof, a bulging hood, additional hood vents and an aggressive gloss black rear spoiler.
Both the trims will get three exhaust tips and blacked out lightweight alloys wrapped with Michelin Pilot Sport 4 tires.
Also Read – Used BMW 2 Series Is Reliable
Are the Interiors Any Good?
The layout will be similar to that of a standard Corolla. The textures and materials, on the other hand, are much superior, and GR sport seats with heavy bolstering will be standard. There are several GR badges throughout the inside to remind you that you are inside something exceptional.
The 8-inch screen is shared with other Toyotas and will support Apple CarPlay and Android Auto. The "Technology Pack" also includes built-in navigation and an 8-speaker JBL sound system.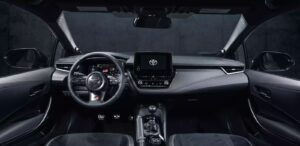 Toyota also intends to replace the current semi-digital driver's display with a whole new 12-inch display.
The gear lever on the circuit edition will be marked differently (leather wrapped). A Cold Weather kit, which includes heated seats and a heated steering wheel, is available as an option.
What Performance-Based Technology Does it Have?
The GR Corolla will be driven by a 1.6-liter turbocharged 3-cylinder engine providing 300 HP and 273 lb-ft of torque. The engine will power all four wheels via a quick shift 6 speed intelligent manual transmission (iMT – Has Auto Rev Matching).
The AWD system is also uniquely built to support multiple drive modes. The Normal mode sends 60% of the power to the rear wheels, the Track mode splits the power evenly between the front and back wheels (50-50), and the Sport mode sends 70% of the power to the rear wheels!
An optional Performance pack adds Torsen Limited Slip differential for the front and rear wheels to optimize grip levels.
Its three-tip exhaust system isn't just for show; it boosts power by producing perfect back pressure (Backpressure improves engine airflow and improves engine efficiency).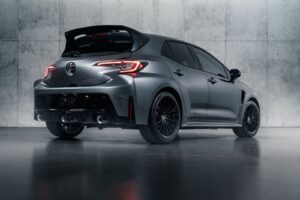 Other cosmetic changes, such as the spoiler and vents, are genuine and serve its purpose well. The fender vents increase brake cooling, while the rear vents improve airflow underneath the vehicle. As speed increases, the spoiler generates more downforce.
The GR Corolla's wider track paired with a lower center of gravity (forged carbon fiber roof), lower weight (Aluminum doors), and lower unsprung mass (lightweight alloys), is expected to attack corners and eat apexes for breakfast.
The sticky Michelin Pilot Sport tires and disc brakes (4 pistons in front, 2 pistons in back) will boost grip and stopping power. There is also a manual handbrake!
Check this – Used BMW 4 Series Is Brilliant
How Does it Perform and How Much Will it Cost?
The GR Corolla is more powerful than the GR Yaris, but it is also heavier. A Golf R (with the 7-speed DSG), one of the quickest hot hatches, performs 0-60 in 4.7 seconds, with some claiming it can do it in 3.9-4.5 seconds. The GR Yaris accelerates from 0 to 60 mph in 5.5 seconds. As a result, we can expect that the Corolla's 0-60 time will be in the upper 4s or lower 5s.
The Golf R is priced at $44,090 and the GR Yaris costs $39,000 (converted from UK price). Hence, we can expect the Corolla to be priced between these two in the early $40,000 mark.
This car has made quite a stir in the automotive industry. It boasts excellent power and technology, as well as reliability and a stunning look. If Toyota can give the Golf R a run for its money, the GR Corolla sales will surely go beyond Toyota's expectations.
Read more – Used 2021 Audi S8 Car Is Amazing